Some forty years from her emergence on the late sixties folk club circuit, Maddy Prior is one of the most enduring, influential and respected artists in British music.
I mentioned on Twitter that my website was a bit out of date, which forced me to rectify the situation and to show that the work and the tours still go on….
To continue from the biog below, ending in 2006…
…we finished that year with a tour of Bloody Men, a studio album by Steeleye, with the glorious Ned Ludd on it. Also the uplifting and raucous Bonny Black Hare, with Peter Knight effectively imitating a heavy metal guitar.
Early in May I began a series of performances with Nick Hennessey, which were challenging, but satisfying to do. For me it was very stripped down and scary, but eventually enjoyable, once I relaxed. Nick was his engaging self throughout.
In May 2007 I was out with the Carnival Band touring with music from Tavern and Chapel, which took us to some wonderful Methodist halls and chapels, Heptonstall being a highlight. The tour was based on a CD of Charles Wesley material, Paradise Found, which was a delightful mix of his material brought together by Andy Watts, MD of the Carnivals.
That summer, at Brampton Live, I joined Katherine Tickell, Corrina Hewat , Martin Green and others on a State of the Union gig to celebrate (?) the Act of Union. I commented in a diary at the time that there was a You Tube bit that looked duff…I hate one-offs….it feels like you can never get it right.
Then at Christmas, with the Carnivals, we released Ringing the Changes, a CD of written Christmas pieces. To my mind there are some classics on there. Bright Evening Star, Stuff, There was a Boy, and Quiet Way Home all deserve a listen.
Then for something completely different…six days on a tour bus (my first time on a sleeper…bit airless) with Freeborn John, a period piece by Rev Hammer. An eclectic mix of performers…New Model Army, me and daughter Rose, Rory McLeod, the Levellers, plus Rev and many others. I found the bus thing odd. I thought how great it would be to travel overnight and arrive early and
have the day off. I found that I didn't know what to do with myself and just wasted the day hanging around the gig…duh.
March 2008…gosh, this goes on… saw the first few dates ( a tour later in October) with Benji Kirkpatrick and Giles Lewin. Another of my 'solo' efforts. I loved singing with them. Benji is such a rhythmic player, he makes those simple songs…the ones that are so hard to make anything of…a pleasure to sing. And Giles…well he's just such a superb musician. So understated. It was called 'Back to the Tradition' which rather annoyed me, since I've never been away. We eventually recorded Seven for Old England (Park Records)
Steeleye was out in April/May, revisiting some early material, Lovely on the Water, always one of my favourites. Also Pete (Knight) and I trod a different path with our customary duet and went wild on Boys of Bedlam, a fantastic lyric set to music by Nic Jones and Dave Moran back in the 60s. Julian Littman has since done another version with my son Alex doing a really scary voice-over. A mother would not want to hear this.
Talking of Alex… recently we've made a CD together, called 'Maddy Prior's Little Trip Out'….something COMPLETELY different. And if you want to check out something in an altogether other genre… and you're not offended by swearing…. try Kemp on http://www.youtube.com/watch?v=7ko_zQAmmJU
Through the summer, as has become my pattern, I ran weekend workshops, at Stones Barn, up in North Cumbria. This has become a particularly satisfying side of my life…so much so, that I am going to do some more training in 2013, so that I can be a more effective teacher.
October saw the Electric Proms. I was asked to put a package together, and June Tabor, a Silly Sister chum, John Kirkpatrick, Giles, Kit Haigh, Barney Morse Brown.
Tim Hart also was one of our company, but sadly this was his last performance, for soon after the event he discovered he had cancer and a year later he died. It was a tragedy that he went so comparatively young. He had given a lot to both Steeleye and the folk scene in general. I miss him. We shared a lot of time together.
And so to the Carnivals again…Carols and Capers… to round off the year.
2009 was a Steeleye year, with a tour in April/May and another in Nov/Dec. We were joined by Pete Zorn, bringing in acoustic guitar and sax. It was initiated by the fact that Rick Kemp was unwell, and as Pete also plays bass, Rick was covered. In truth Rick never needed Pete to cover for him on the tour, and we got used to being six again…it makes so much difference on the vocals…so he stayed.
2010 was a Benji and Giles and a Carnival Band year…with a new CD with the Carnivals of Vaughn Williams material…very tricky some of that. Not at all obvious.
The wonderful Ken Nicol had decided to pursue other musical directions and Julian Littman joined on electric guitar and in 2011 we took note of the 'now we are six' reference and reprised the album with 'Now we are Six, Again' (Park Records). That was an interesting thing to do. The original album was a bit bizarre, having a mock children's choir and David Bowie on it. We scrubbed round the choir and Pete Zorn did a passable imitation of David B. There were also some good songs on it. Drink down the Moon, Thomas the Rhymer (one of Bob's great creations), Two Magicians …etc
In 2012 we had a tour booked for the me/ Benji/ Giles combo, but it turned out that Benji had other commitments and couldn't do it, so Giles and I put our thinking caps on and came up with the unlikely idea of an accordion playing clog dancer, Hannah James. I did have grave doubts when we rehearsed with me with a rubbish voice and seeming unable to learn anything…but Hannah pulled us through…and we've had a couple of very happy trips out, recording '3 for Joy' on the way….a strange journey of an album, taking in material from the English/ Scottish border, Bulgaria, Klezmer and Appalachia. As Hannah says…if you didn't like that, you might like this…
So, nearly up to date…is anyone still reading this? 2012 saw the first Stepping Stones Festival in Brampton, North Cumbria. It was the most splendid affair, with John Spiers and Jon Boden, New Rope String Band, Coope Boyes and Simpson, Lady Maisery, me, Hannah and Giles and many more.
Immediately after that I went on the road with a tribute tour for Sandy Denny. I was doubtful about the whole idea, but Pete Zorn said 'Does it worry you?' and I said 'Yes' and he said 'Well then, do it'. So I did. And it was great. Met lots of nice people, was walked in on starkers in my hotel room, and realized how tricky Sandy's songs are. A learning curve.
Steeleye toured early this year, and we had a great time. I think everyone was wondering how it would work out. We were showcasing the beginnings of a new project called Wintersmith, a piece based on a trilogy written by Terry Prachett, who regularly comes to our shows. It's a mutual appreciation society. Rick was recovering from having half a new knee, Peter Knight on the road for three months , with Feast of Fiddles and his own band Gigspanner, before he could get home to his lovely house in France, and the weather here appalling. But as it turned out it was a delight. You just never know. The new material was really well received and we missed all the snow by going to Lowestoft.
Finally, till the next update, Stepping Stones Festival again. And again a treat. Rose Kemp, Abbie Lathe'Stones Barn Vol 1', which is an unlikely title, but it is essentially a teaching CD which will have a CD with all the separate parts and manuscript coming soon. I so loved singing with Rose and Abbie…we've been teaching together these 10 years and I showcased our new CD.
Also on that afternoon were Hicks and Goulbourn, amazing guitarist Steve Hicks…who is coming to do a course at Stones Barn on Accompanying Song, with Rick Kemp….and lovely singer Lynn Goulbourn.
Les Barker and Keith Donnelly finished off the first afternoon. We had Red Ruff, Red Priest, Karine Polwart, and the Swing Commanders on Sat night.
Agrippa, a story of a Roman commander based in West Cumbria, with Dessi Stafanov, a glorious Bulgarian singer, and Galen, a bagpiper and flute player. Mano, a Galitian piper and jaws harpist, Frank Lee and Corrie Schrijver, Hannah, Giles and me. Only a bit chaotic…makes you realize how different cultures really are.
Hannah pulled together a dance show which had Belly Dancing, clog (obviously), skipping and dancing (at the same time) and Declan McHale…fab.
Brass Monkey and Merry Hell made up the rest of the evening…so excellent.
John Dagnell at Park Records continues to be the driving force behind the business side of my life. He is a stalwart friend, who I'm allowed to disagree with, and he works hard for both myself and Steeleye, and I am grateful that he is there to support us. It's hell in this area of work without good representation.
So that's me done for now…up to date….
13/5/13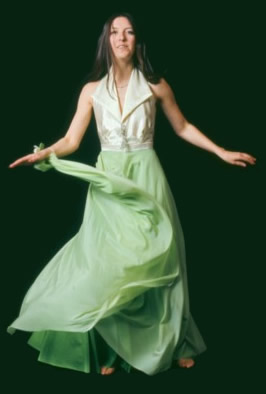 Born in Blackpool and, raised in St Albans, Maddy first came to prominence as a duo with singer/ guitarist Tim Hart, building a reputation around the folk clubs and releasing two albums. As the 70s dawned, they joined forces with Ashley Hutchings (of Fairport Convention) and Gay & Terry Woods, with the idea of fusing folk song with rock instrumentation and technique. The new group took its name from a traditional Lincolnshire ballad 'Horkstow Grange' - the tale of a character called Steeleye Span.
So began an incredible story. Others may claim the invention of folk-rock, but Steeleye were the first to drag it into the electronic age. In the age of the giant rock band, Steeleye Span fitted the bill perfectly, taking folk music out of the backroom clubs and into the charts with a string of hit albums, gold discs and world tours. Hart and Prior remained constant in a group whose changing line-ups read like a Who's who of British folk, until Tim left in 1980 and the band undertook a couple of sabbaticals, before returning in 1986.
Throughout this period, Maddy continued with extra-curricular activities. Two albums were released with June Tabor (as the Silly Sisters) and solo projects saw her work with the cream of traditional musicians including Martin Carthy, Nic Jones, Danny Thompson and John Kirkpatrick. While Steeleye continued to explore traditional material, Maddy used her albums to develop her own songwriting, despite claiming to be in awe of the craft.
One of her most abiding projects was born in 1987 with the release of A Tapestry of Carols with The Carnival Band. The meeting came out of chance but this part-time collaboration has lasted for twenty two years and several albums, primarily a Yuletide affair but also exploring other ways to combine early music, hymns, classical and more with an "anything goes" attitude. Their Christmas tours have become something of legend, as documented on the 1998 Carols At Christmas live album.
1997 was a year of change. Steeleye Span (now with original member Gay Woods back in the fold) released Time, acclaimed as their best album in many years. Two massive UK tours followed, the second of which saw Maddy make her last appearance with the band after 28 years. The workload of a band, the Carnivals, a solo career and a family had started to prove too much and a decision had to be made.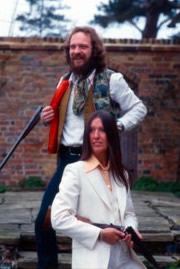 Maddy & Jethro Tull frontman Ian Anderson who produced Steeleye's Now We Are Six
But as one door closes, so another opens, and a new solo album, Flesh & Blood was released to widespread acclaim. Combining traditional and original material, Maddy's voice had never sounded better, while her musical partners on the project- keyboardist Nick Holland and multi-instrumentalist Troy Donockley (uillean pipes, whistles and guitars) were perhaps the most suited of her career. Following the release, the trio toured in the UK, Europe and USA. After debuting new material on stage, Maddy entered the studio to start work on her next album, Ravenchild. Once more immersing herself in her favourite topics of tradition, mythology and history, the record was released in spring 1999 to critical acclaim and supported by another British tour.
Ravenchild proved to be something of a landmark, being Maddy's 35th album in as many years. It seemed only too appropriate to mark this, so in December 1999 Maddy set out on the road again for a special set of dates celebrating her career thus far. As well as Nick and Troy, the shows brought together some of the musicians Maddy has worked with over the years including Rick Kemp and Peter Knight (of Steeleye Span), Steve Banks (from The Carnival Band) June Tabor, and Maddy & Rick's daughter, Rose Kemp. These shows were documented in the live album (and DVD) Ballads and Candles, released the following year. The most recent new album - Gold Frankincense and Myrrh - is another seasonal endeavour, but this time with some exciting new directions in the form of another song-cycle, offering a new slant on the well-known story of the Three Kings, and Middle Eastern influences in the music.
2000 saw the announcement that Maddy's longstanding contribution to folk music was to be recognised with the award of an MBE in the New Year's honours list.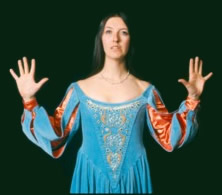 At this stage, many might be tempted to rest on their laurels, but if anything, Maddy has thrown herself into her work with even more vigour. Her most ambitious work so far, Arthur The King centred around an extended song-cycle exploring the facts and fictions surrounding England's legendary King.
Affirming Maddy's reputation as a songwriter, and as an unsurpassed interpreter of traditional song, the album explored an even broader musical palette, from traditional folk through to hard rock and ambient electronic textures.
Following Arthur, Maddy and the boys made a CD of Lionhearts, based on the story of Eleanor of Aquitaine, mother to Richard the Lionheart and King John, and wife to Henry II.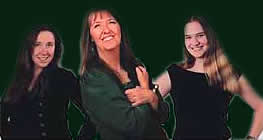 Abby Maddy & Rose
Maddy Prior's Girls brought together Maddy, her daughter Rose Kemp, and Abbie Lathe in a stripped-down, acoustic form, with anemphasis on vocal harmony, and a range of material from traditional folk, gospel and blues to contemporary writers and original material from all three. A well-received album Bib & Tuck and two successful tours followed.
When Rose decided to devote more time to her own fast growing career, she was replaced by Claudia Gibson and the CD Under the Covers was made. A daring and unusual album from Maddy, covering the songs of recent songwriters, based around the acapella arrangements the Girls had created.
In 2002 Maddy surprised everyone with the announcement that she was to head a reunited Steeleye Span for another album and tour. Present: the Very Best of Steeleye Span was exactly that, with the band revisiting, and bringing into the present their all-time favourite moments as chosen by their fans via an online poll.
The band's sold-out tour in the run-up to Christmas 2002 showed they were still very much a force to be reckoned with.
In 2004 Steeleye celebrated their 35th anniversary with tours in the Australia and the UK, a headline appearance at Sidmouth International Festival and a new album: They Called Her Babylon, the first release of new material from the band since 2000, and one that does the band's legacy proud.
In 2005 they made a seasonal CD of Christmas and associated material called Winter, and at the end of 2006 toured the UK with another new studio album called Bloody Men
In October, 2006, Maddy went on the road touring a retrospective of her work with Nick and Troy, based mainly around Arthur, involving a webcast and interactive internet activity. A groundbreaking and adventurous undertaking for the Park office Maddy's management and record company.