The first incarnation of The Girls included Rose Kemp (Maddy's daughter) and Abbie Lathe.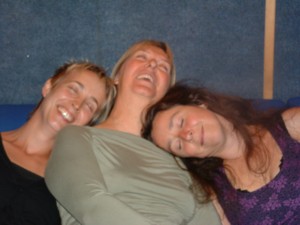 They toured and made a CD, Bib & Tuck, based mainly on traditional and folk styles. The CD featured a selection of songs by Maddy, Abbie and Rose, favourite folk classics, contempory songs and The Cotton Triangle a song suite that described the Slave and Cotton trade of the 18th Century.
Rose bowed out to pursue her own career of songwriting and singing. She was replaced by Claudia Gibson and the whole endeavour took a sea-change.
Using the three-part harmony as a base they looked to current and recent writers for material, only using songs where they could radically change the arrangement.
This led to extraordinary versions of songs by Sam Brown, Keane, The Levellers, 10CC, Chrissie Hynde and others.
The CD they made is Under the Covers.
There are no plans at present to tour.
Discography
Maddy Prior & The Girls, Bib & Tuck CD Park Records PRKCD61 2002
Maddy Prior & The Girls,, Under The Covers CD Park Records PRKCD84 2005
both albums are available from Park Records